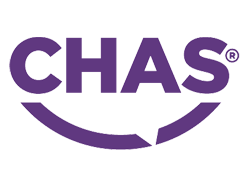 CHAS (The Common Assessment Standard) is the UK's award-winning, leading risk management accreditation scheme for contractors like Robinsons Facilities Services who provide a broad range of commercial building services including legionella control, asbestos surveys, fire suppression and many others.
This accreditation helps us keep on top of ever-changing risk management standards, as well as improving our supply chain efficiency, reducing supply chain risks, and finding reliable business opportunities.
For Robinsons Facilities Services, being a CHAS accredited contractor is essential in establishing our credentials as a trusted and respected contractor in the HVAC sector. The accreditation covers a wide range of areas of risk management, including:
financial risk
health and safety
environmental impact
quality assurance
corporate and professional standing and verification of the company's identity
anti-bribery, corruption, and modern slavery
equality
Corporate Social Responsibility (CSR)
GDPR
building information modelling
Being a CHAS accredited contractor has enabled Robinsons Facilities Services to improve our supply chain efficiency and has reduced supply chain risks. The accreditation demonstrates our competence and knowledge to our clients, contractors, and the general public, and shows our commitment to best practice in adhering to current legislation at all times.
CHAS is based on the PAS 91 prequalification questionnaire, and Robinsons Facilities Services evidences our compliance in all areas of the accreditation annually.
Robinsons Facilities Services, one of the most accredited companies in Yorkshire, is committed to protecting its infrastructure and working to maintain and improve efficiency where possible. Certification to CHAS ensures we have framework in place to monitor all areas of our business and ensure we are 100% compliant in all areas of risk management.