10 Unexpected Ways to Keep Warm this Winter
February 15th, 2021
Last updated: June 9th, 2023
As we approach the colder months of the year, and with energy costs going through the roof, people are looking at more ways to keep warm, as well as ways to keep the house warm without having to spend a fortune on energy costs.
Of course, there is no replacement for heating, but it could be that you make some different choices this winter about how much of the house to heat, for instance, in a bid to save money. If that's the case, our tips could be very helpful for helping you to stay warm and comfortable.
No. 1 – Wear 2 Pairs of Socks
Our feet have a large surface area and lots of blood vessels so it's best to keep those toes toasty when the cold weather hits. Whether you're out for a walk or snuggled up in bed, having an extra pair of socks on can prevent the body heat escaping and keep you feeling much warmer over the course of the day. It's amazing what a difference this little tip can make.

No. 2 – Enjoy a Hot Drink
You can warm your body through with a delicious hot drink and what's better than a hot chocolate when it's freezing outside? The UK is also full of tea and coffee lovers, too.
The NOLS blog makes some crucial observations, and while hot drinks won't warm your internal temperature that much, there are some other benefits:
"Your chilly fingers touching the hot cup or water bottle gain a little superficial warming, and the steam is a nice way to warm your face (carefully).
Hot drinks, especially with extra sugar or butter, are also a very effective way to stay hydrated and to give your body some calories to burn, which is how your body heats itself."
No. 3 – Stay in Bed
When the weekend rolls around, it is certainly tempting to sneak an extra few minutes in bed and snuggle down under the duvet. Sunday could well become duvet day (as long as you've got everything you need to done!)

No. 4 – Make DIY Hand Warmers
Get crafty and make yourself some handwarmers, mittens or gloves. It will keep you busy and warm too!
No. 5 – Remember Joey Wearing All the Clothes?!
Here's a 90s throwback to the TV show Friends, when Joey decided to wear everything that Chandler owned, all at once. Put on a few extra layers. It sounds simple but this is definitely one way to keep warm! Wearing a jumper to bed might feel extreme, but it can be a very cosy feeling.
No. 6 – Have a Shower to Heat Through
A shower is a great way to heat your body through – just be sure to get dry and dressed before you feel cold again, and dry your hair thoroughly as otherwise it can leave you feeling colder!
No. 7 – Hug the Dog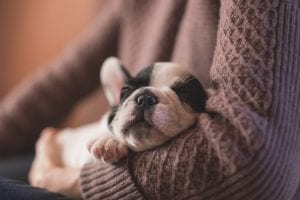 A dog's normal core body temperature ranges from 100 to 102.5 degrees Fahrenheit, compared with a human's normal body temperature of around 98.6 degrees. Okay, we're not saying that hugging your pet is the answer to all of your woes, but it will certainly help you with staying warm, and with the release of Oxytocin, the body's "love hormone". What's not to like?
Get those cuddles going!
No. 8 – Keep Moving
Sitting around might only make you feel colder. Try moving, keep the circulation going and you'll start to feel warmer before you know it. It sounds like patronising advice, but doing something active and trying to walk around the house is good for you in a lot of different ways. You can walk up and down the stairs a few times or try to do something that will get you a little out of breath to raise the heart rate.

No. 9 – Keep Doors Closed
If you're in one room mainly, try closing the door to keep the heat in. You may make a focused effort to heat certain parts of your home where you spend the most time, rather than spend the extra money to heat the whole space. You can also try adding draught excluders to keep the room warm. Insulation is crucial, but if your doors aren't the best then draught excluders can do a decent job.
No. 10 – Get Robinsons Facilities Services to Service Your Boiler!
Last but not least, be sure to get your boiler serviced so that it runs efficiently and keeps you warm on the coldest of days. Call us on 01423 226578 for boiler maintenance and repairs – we'll keep you warm! Take a look at the most efficient het sources as well, and some other tips for staying warm!
Working across Yorkshire, we cover North Yorkshire, West Yorkshire, East Yorkshire and South Yorkshire and offer a fast, efficient response time to all breakdowns and repairs. Contact us today for all planned, reactive maintenance or emergency call out.
Back to news