Robinsons Services Donates to Harrogate Foodbank Appeal
September 3rd, 2018
Last updated: June 9th, 2023
When a business calls itself 'part of the community' it is often just words, but at Robinsons Facilities Services we are all about actions. Of course we already feel like part of the community in Harrogate, because we exist as a vital resource to many organisations in the area who have come to rely on our 24/7 emergency cover and our work in keeping their businesses ticking over. But away from the business community and boiler repairs, emergency electrical cover and air conditioning maintenance, there is a local population and a network of supporting organisations that can also benefit from our help, and this has been proven in the last few weeks.
There are many real stories in Harrogate; stories of people with difficult lives, who have encountered misfortune and everyday obstacles with varying degrees of success. In that sense, Harrogate is no different to any other part of the country, and this is reflected in the Harrogate Foodbank; one of a network of similar organisations across the country.
Responding to the Harrogate Foodbank Appeal
When we heard, via Stray FM, that the Harrogate Foodbank were short on stock with which to help local people, we felt duty bound to help.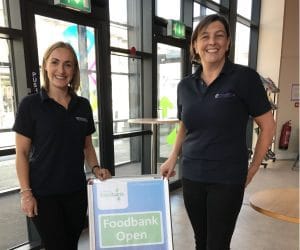 The Harrogate Foodbank is founded and run by local churches and community groups, with a view to doing as much as it can to ensure local people don't go hungry. It is a selfless organisation that has proved to be a vital lifeline for local people and is built on the generosity of spirit of the people who manage it and of course who donate to it.
An open door policy allows people to drop off food parcels of any size or nature, and because Harrogate is such a warm and community-led town, this largely works well. But the system is not immune to the occasional shortage, and it was such an occasion that led to a public appeal that at Robinsons Facilities Services we felt compelled to respond to.
Helping People is What We Do
Our ethos of helping people, getting them back on their feet and functioning properly, runs through our company and always has. We have the resources; the skills, the knowledge and the experience and we can apply this in different ways, so we made a swift decision to club together between our staff and very quickly put a substantial food parcel together to donate to the very grateful volunteers at the Harrogate Foodbank.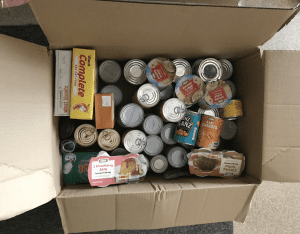 The knowledge that we have helped Harrogate Foodbank in their pledge to provide three days' nutritionally-balanced emergency food to people referred to them in crisis has acted as a reminder of our position within the local community and what powers we have to help it.
Everybody has a story and many stories have unexpected twists. We should never assume that individual circumstances are everything they appear to be on the surface. And at Robinsons Facilities Services we are very proud that our employees recognise that, and that our organisational ethos of 'helping people' extends to providing 24/7 help and support to the community that we exist within.
Can you help donate to the Harrogate Foodbank too?
Visit:
Waitrose, 92 Station Parade, Harrogate, HG1 1HD
Mon-Thur & Sat 08:00-20:00
Fri 08:00-21:00
Sun 10:00-16:00
Front of store
Mowbray Community Church, Westmoreland Street, Harrogate, HG1 5AT
Tues or Fri 10:30-12:30
Back to news